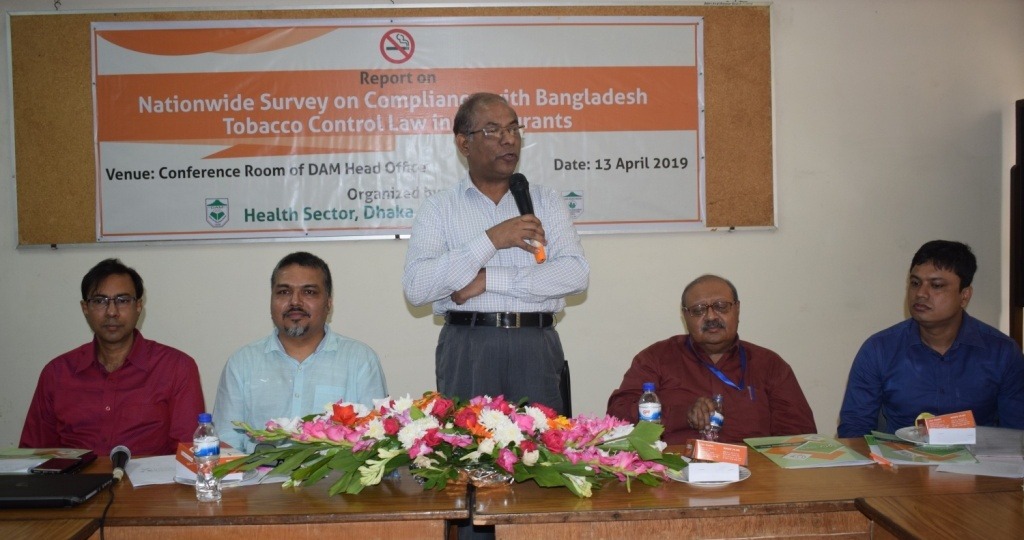 Dhaka Ahsania Mission (DAM) has released a nationwide survey report on TC Law Compliance in restaurants. The report has released today (13.04.2019) at the conference room of DAM Head Office. According to survey report 61% restaurants owners became aware on TC law. The survey also revealed 63% restaurants hanged No Smoking Signage out of which 43% hanged the No Smoking Signage according to law. It also shows that7.5% restaurants allow smoking in their restaurants despite of aware about Tobacco control (TC) law. Besides, 82.9% restaurants owners are informed that restaurant is public place as per Tobacco control Law.
Mr. Iqbal Masud, Director, Health Sector of DAM presented the report through power point presentation while the program was chaired by Mr. Mohammad Ruhul Quddus, former Additional Secretary, Ministry of Health and Family Welfare. Mr Kamal Uddin, Executive Director of NATAB, Mr. Nasir Uddin, Country Manager of Vital Strategy, Mr. Azmal Hossain, Head of Program, VOICE, Ms. Nadira Kiron, News Editor of ATN Bangla, Syed Mahbubul Alam Tahin, Technical Director of The Union, Mr. Aminul Islam Sujon, Programme Officer of National Tobacco Control Cell (NTCC) spoke as Guest Speakers and Md. Mukhlesur Rahman, Assistant Director of DAM delivered the welcome speech.
While presenting the report, Mr. Iqbal Masud, Director DAM Health Sector said Bangladesh is among the top 15 countries in the world with tobacco-related health risks. There are dangerous consequences related with tobacco, which causes 22 types of cancer, economic loss and degradation of social values. Prevailing secondhand smoking is also blamed for damages caused to non-smokers. Placing recommendations for solving the problem, he stressed on meting out proper and immediate punishment in case of violation of the law, and involving the Local Government Division more for enforcing the law. Besides, he suggested raising massive awareness among the members of Restaurant Owners' Association in this regard
Among other Mr. Ataur Rahman Masud, Advocacy and Research Officer of CTFK, Mr. Bazlur Raman, Member Secretary of TCRC, Khondaker Reaz Hossain, Director Programs of Gram Bangla Unnayan Committee, Ms. Sarmin Akter Rini, Project Officer of WBB Trust and Journalists spoke on the survey findings.
Attributing the smoking in public place to non-implementation of Tobacco Control Law, the speakers stressed on reforming the law. They also called for launching advocacy for raising awareness involving the restaurant owners. Representative from different anti-tobacco organizations and different projects of DAM Health Sector participated in the event.
It may be mentioned here that this survey conduction as well as report release program was organized through DAM own inititiatives.