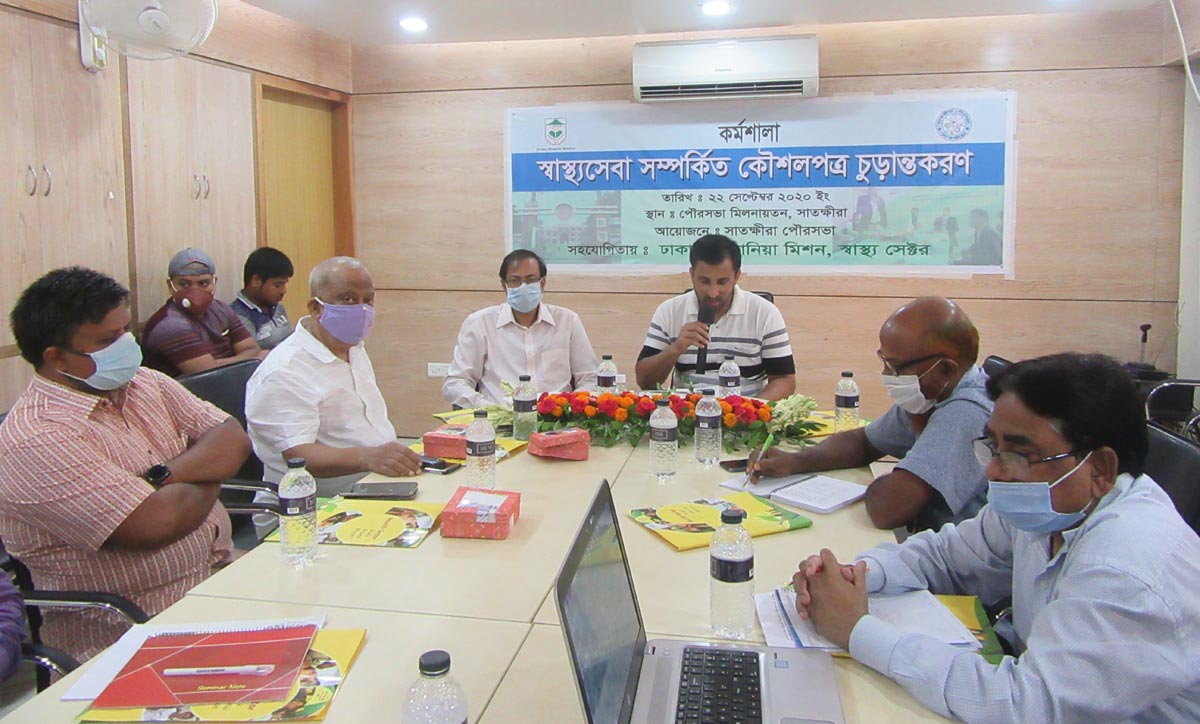 Health Services strategy of Satkhira Municipality has been finalized today (22 September, 2020, Tuesday) in a workshop organized by Satkhira Municipality with the assistance of Dhaka Ahsania Mission (DAM). The venue of the workshop was the conference room of Satkhira Municipality Mayor Mr. Tazkin Ahmed Chisty. Mayor of Satkhira Municipality presided over the workshop. In his speech, the Municipality Mayor said, "Finalizing the health strategy of Satkhira Municipality is an important milestone for improving the health services. This strategy paper will play very pivotal role for ensuring the health services of mass people especially the health services of the poor, unprivileged, socially excluded and marginalized people of Satkhira Municipality. It will also help to achieve the 13 targets of SDG-3.
Acting Civil Surgeon of Satkhira District and Residential Medical Officer (RMO) of Satkhira Sadar Hospital Dr. Md. Jahangir Hossain was present as Chief Guest. In his speech he said that, "Ensuring health services of every people under Sathkhira Municipality is one of the major responsibilities of the Municipality. Implementation of this strategy paper will help in great extend to perform this duty. He also thanked the Satkhira Municipalty for such noble initiative and DAM for providing whole hearted cooperation to develop and finalize the health strategy paper".
Mr. Iqbal Masud, the Director of Health & WASH Sector of DAM was present as Special Guest. He said, "Health Sector of DAM is implementing different activities. This strategy paper will help Municipality to implement the health services of Satkhira Municipality in future. Md. Mukhlesur Rahman, Assistant Director of Health Sector presented the strategy paper in the meeting. Among others, were present Municipality Secretary Mr. Md. Saiful Biswas, Slum Development Officer, Mr. Md. Ziaur Rahman, Sanitary Inspector Md. Rabiul Islam, President of Clinic and Diagnostic Association of Satkhira Dr. Habibur Rahman, Acting Secretary of Satkhira Clinic and Diagnostic Association Mr. Md. Kamruzzaman Rasel, representatives from different clinic and diagnostic center, representatives from NGOs working at Satkhira, Area Manager of Health and Nutrition Voucher Scheme for Poor, Extreme Poor and Socially Excluded People (PEPSEP) Project Syed Mijanur Islam and other staff had participated in the meeting.